We've all seen them down at the beach in the height of summer with the bucket hats, vests with a million pockets and ankle boots buzzing around the sand looking for treasure while we are stripped down soaking up the sun.
While many of us are no doubt guilty of having a giggle at this scene down at Cottesloe it is fast become a popular past time in the Goldfields at the moment and local stores hiring out metal detectors are far from laughing.
With borders still closed and the Government encouraging us to 'Wander out Yonder' in our great state, people are thinking up new ways to explore at home.
There might be more to it than just the new experience as gold prices have hit a record high this year. Prices have reached over $2,800 AUD an ounce this year. We have not seen prices like this since 2011.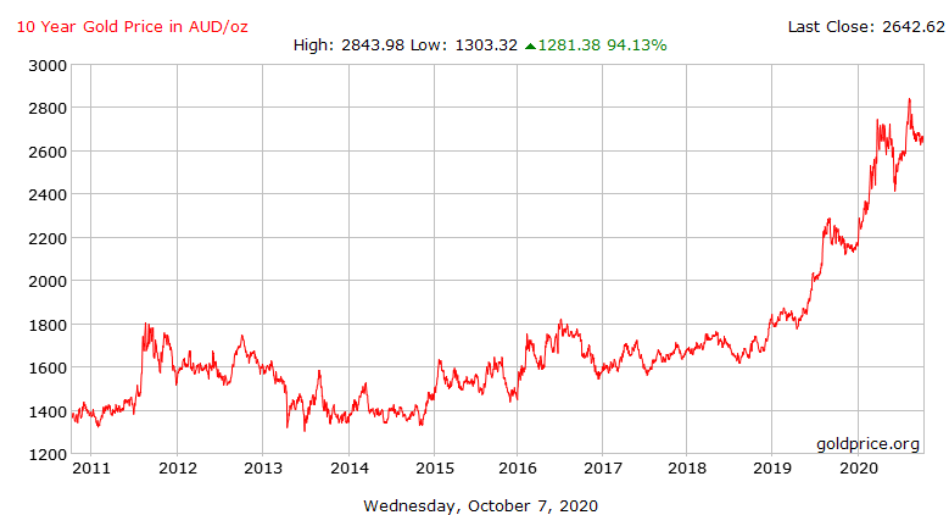 Source – https://goldprice.org   
So perhaps when dad suggests the kids go searching for treasure, he isn't far wrong!
The high gold prices aren't only great for amateur gold hunters and mines currently in operation but for many that stopped production when the gold price was too low to sustain and are now expected to be brought back to life.
To top it off, there is also a new Top-10 global gold major on the block with Northern Star and Saracen merger this week. This will also see Kalgoorlie 'Golden Mile' consolidated under one owner for the first time in its 125+ year history.  
So good news for those selling gold, what about the rest of us?
You don't have to be on site or digging around in the bush to cash in. You could dabble in the ASX but sadly this is where our advice stops on that front.
What we are most excited about is what this means for local communities.
With successful mines comes jobs and infrastructure. The Labor Government led its campaign with Jobs for Locals and now partly because of COVID that isn't even really a choice but a necessity.
But how will that go? We wrote last year about the skill shortage we were facing and that was before all hell let lose!
BHP has already said it will preference West Australians over interstate FIFO workers to mitigate difficulties with WA's hard border.
Karratha has done a lot of work to attract not only mine workers but whole families to the area. This will attract some skilled workers who would otherwise be put off by the FIFO lifestyle.  
We have no clear indication as to when the WA border will open but we do know that 2020 Diggers and Dealers will be a massive one next week in Kalgoorlie as we are still allowed to 'Wander out Yonder' in WA after all.
We will keep watching this space as gold in WA goes from strength to strength.